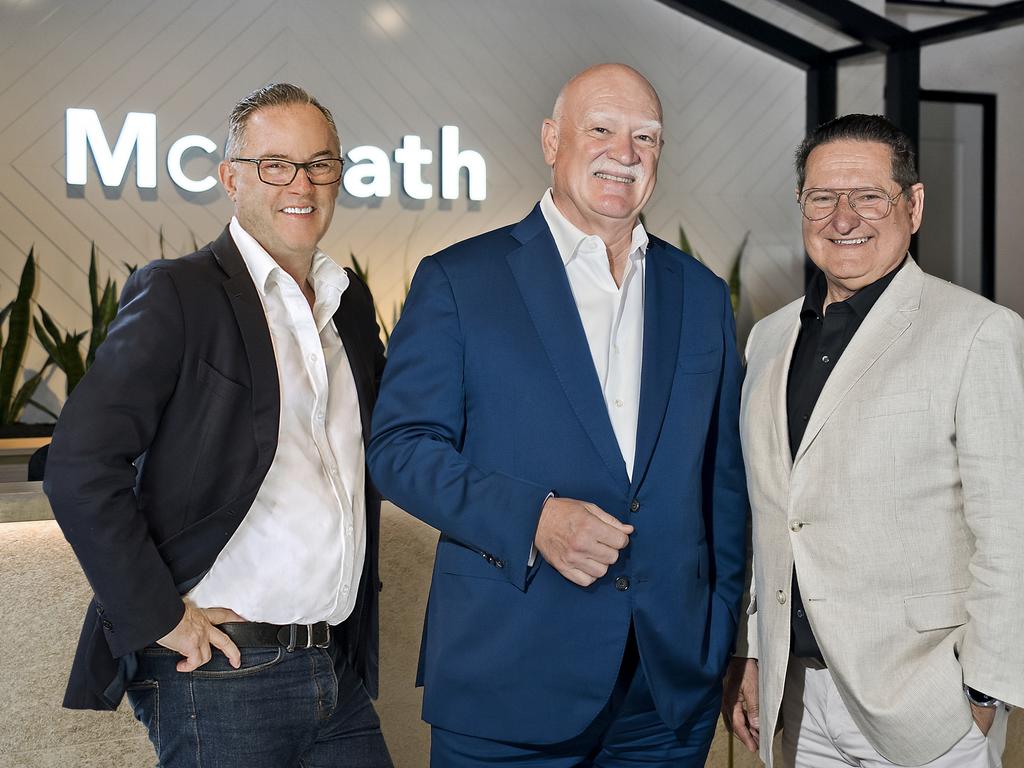 Above(L-r): John McGrath, Craig Pontey and Michael Finger.
Originally published in The Daily Telegraph
Property guru John McGrath has confirmed the real estate recruiting move that has sent shockwaves through the industry.
As The Daily Telegraph exclusively revealed on Friday, McGrath has released a media statement saying that eastern suburbs veteran sales agents and Ray White founders will join their rival agency and head up McGrath Double Bay.
The move has blindsided many and sent shockwaves through the real estate industry.
"Craig and Michael are among the very best real estate leaders in the country, so I'm absolutely delighted that they are joining our team," John McGrath, Managing Director and CEO of McGrath said in a statement released on Wednesday.
"When it comes to real estate experts in Sydney's Eastern Suburbs harbourside markets, I believe they're a team with few peers.
"I've known them both for over 35 years and have always respected how they have conducted their business. They both came to the opening of my first office, so for me, to have them join us is both humbling and exciting."
Co-Principal of McGrath Double Bay, Craig Pontey, whose sales included the $65.25m transaction of 44 The Crescent Vaucluse said. "Both Michael and I will be focused on creating an environment to grow the business and expand our footprint under a respected brand. Our success in the past has been based on leadership, energy and creating a great environment and culture. We are passionate about that and will do that again."
"McGrath is a progressive brand where we see an enormous opportunity to grow and pickup market share."
Co-Principal Michael Finger added: "My passion is to mentor young agents. Now more than ever, it is important to strengthen and develop their skills in a challenging market. I love to see people develop and progress in their career and life, hence I will be on deck to support and grow our team."
Two legend real estate agents — said to have 'Ray White running through their veins' — have shocked the real estate industry by joining rival firm McGrath.
"Everyone's in shock," said one Ray White Double Bay staffer of the decision by Ray White founders Craig Pontey and Michael Finger to leave the office they created more than three decades ago.
There's speculation that they're set to take over as principals of the McGrath Double Bay office. And there's also speculation as to what happens to Ray White Commercial East, which the pair own.
Yet a McGrath spokesperson confirmed simply that the pair are joining McGrath as agents and McGrath CEO John McGrath said he was "delighted".
"I've known them both for over 30 years and regard them as two of the most skilled real estate professionals in the country," John McGrath said.
The news has been the talk of the industry on Friday and, when contacted, Ray White Double Bay principal Elliott Placks said Pontey and Finger broke the news of their shock departure on Wednesday evening.
Said Placks: "I have been with Ray White for 21 years and have been a loyal advocate of the brand that has benefited both myself and the business.
"The technology platform and support that corporate offers is paramount to both my and my sales agents' success.
"There is no other brand in my opinion that is as good as Ray White.
"So I am surprised with their decision to shift after their 35-year career with the best brand in Australia."
Pontey and Finger founded Ray White Double Bay in 1987 and Placks and his family bought the business from them in 2018.
The Ray White family wished the two real estate agent legends "nothing but the best of luck" in their new business.
Ray White Managing Director Dan White noted the pair have more than 40 years of experience each working in the "centre of the universe" that is Double Bay in Sydney's prestigious east.
He said Pontey and Finger were some of the most celebrated performers in the Australian real estate industry and had been cherished members of the family-owned group since the late 1980s.
"We want to thank Craig and Mike for their enormous contribution to our group over the decades," Dan White said.
"They were there in the beginning of our journey in NSW and were pivotal in building early momentum."
Craig Pontey started his real estate career at AH Taylor Real Estate on 28 November 1978 before he and Mike Finger joined Trevor Leach in moving to Ray White Double Bay on 11 April 1988.
"Craig and Mike have been central to our success in becoming the largest real estate group in Sydney.
"They founded and grew a wonderful business in Ray White Double Bay before selling it to elite performer Elliott Placks in 2018.
"They built the foundations of a business that has gone from strength to strength and is currently enjoying record market share in the eastern suburbs.
"We wish Craig and Mike all the best in their future endeavours and we will always be grateful for their impact, friendship and contribution."
John McGrath also said that apart from being highly successful agents, Pontey and Finger were "just as importantly people of great integrity".
"Not only will they bolster our world-class team of agents, but they arrive with incredible leadership skills that will enhance our entire group.
"They previously built one of the best offices in Australia and I have no doubt they will do it again over the next few years."